About
About me, just me and nobody else!
I'm a guy who was born two years before the first moon landing. Anyone who knows history and is mathematically talented can calculate the birth year as 1967. I live in Gothenburg, Sweden, Earth. I belong to the species Homo sapiens. In other words, you and I are guaranteed to be related to each other in one way or another.
Photography is one of many interests that I have. It began sometime in the mid-80s, in the last century with a Minolta camera. Minolta X-300* was the camera name. At that time there was no Internet to get knowledge from, and it was just trial and error that mattered. Ok some errors! I admit.... I bought a camera not so much with general photography in mind, rather, I wanted to take photos of the stars ... you know those suns far away, available on the night sky. Yes, it was not so good in the beginning, because the earth is spinning as we all know, and the camera is fixed relative to the ground. 30 second exposure resulted in lines instead of pinpoint stars. A few years later I solved this with an equatorial tripod with motor drive to compensate for the Earth's rotation.
It is not really true that I just bought the camera for Astrophotography. Other things were also caught on slide film. Nature, family, aquarium fish, close-ups and so on. What would been good to have in the eighties, the Internet... today we are spoiled with an immense amount of information about how to achieve good pictures. YouTube has many videos to watch. You will find several photographers there who are willing to share their passion and knowledge. Joe McNally, Frank Doorhof, Joel Grimes, Scott Kelby, Glyn Dewis. Look also for Daniel Norton, Seth Miranda, Matt Irvin and Ricci. Do you like Photoshop? Here, a young very talented Photoshop-guru: Unmesh Dinda.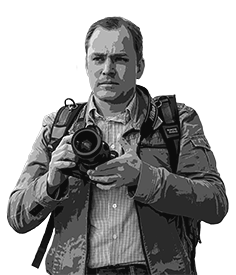 I am an amateur photographer, which is to say that I have no main income via my interest in photography. But yes, it has happened, that some money has found its way into my wallet that particular way too. What I find most rewarding is to take photographs of people. Especially when I can gather a group of people who want to create a memorable picture. I'm no expert, but I 'm not completely novice either in the art form of photography.
There are many rules to follow, but the most important rule is to ignore the rules when you know what you want to achieve with the image. Maybe you hear someone chanting that one should never ever crop an image afterwards, only in the viewfinder of the camera. Yes, very good advice.. When you want to learn to see the picture in the camera. I often crop the images afterwards artistically and... well, I'm happy with that! The important thing is.. always have a humble attitude to given advice, and use those (or even it's opposite), whichever suits you best.
For my friends and other acquaintances... | Login |